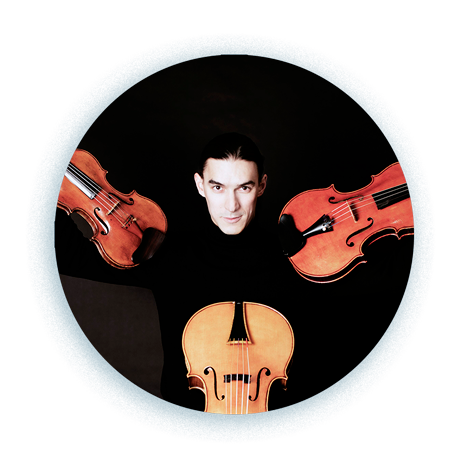 Sergey Malov
violins and violoncello da spalla
After receiving degrees from both the University of Mozarteum in Salzburg and the Hanns Eisler Hochschule in Berlin, Sergey Malov went on to win major competitions on two instruments: the violin (Heifetz 2008, Mozart 2010, Michael Hill 2011) and the viola (Tokyo 2010). His interest in historically informed performance practices led him to study the Baroque violin and more recently the violoncello da spalla. Today he successfully combines all these instruments in recitals, concerts, and recordings.
As a concerto soloist he has performed with orchestras including the London Philharmonic, BBC Symphony, Bavarian Radio Symphony, Helsinki Philharmonic, St. Petersburg Philharmonic, Moscow Philharmonic, Tokyo Philharmonic, and the period instrument ensemble Akamus Berlin.
A passionate chamber musician, Mr. Malov has been invited to the festivals of Verbier, Gstaad, and Kuhmo, and performs solo recitals on his four instruments. His instrument collection includes a violin by Ferdinando Gagliano, a viola by Pietro Gaggini (1958) on loan from the Foundation Carlo van Neste, a Baroque violin and a violoncello da spalla built especially for him by Dmitry Badiarov (2011, 2013). On all these instruments he uses the most recent strings of Thomastik-Infeld Vienna.
Mr. Malov's repertoire is unusually rich, including solo instrumental works of Gabrieli, Bach, Locatelli, Paganini, Vieuxtemps, Ysaye, Bartok, Ligeti, Schnittke, and Corigliano, as well as the concertos of Mozart, Beethoven, Mendelssohn, Brahms, Sibelius, Prokofiev, and Bartok. His recent recordings include chamber music by J. Ducros, and an album of solo works by Bach and Bartok.
Sergey Malov speaks fluently six languages: his mother tongues Russian and Hungarian, as well as English, German, French and Spanish.
Helsingin Juhlamusiikkipalvelu Oy 2022